"Hastings Mission Base, this is CAP 2026" I said over the FM radio as our Cessna 182 aircraft orbited a patch of farm field in western Michigan, "We have directed Ground Team Alpha to the target of interest; they report it is the tail of an aircraft, registration number November Two Four Five Foxtrot Delta.  Please advise on further orders."  The section of airplane that lay nearly concealed below us by a thicket of trees and shrubbery marked the successful completion of an hour long search, in which we had used our aircraft's tracking equipment to hone in on the Emergency Locator Transmitter, or ELT, that was broadcasting from the wreckage below.  We had taken off almost two hours earlier from Hastings airport, a small facility that Civil Air Patrol had commandeered for a weekend of search and rescue exercises to prepare for our upcoming evaluation by the United States Air Force later in the summer.
We soon picked up the ELT, and began to fly the search pattern that allowed us to triangulate the point at which the strength of the signal was highest.  After making a number of passes over this unassuming field, I had spotted a glint of metal at its very edge, nestled up against the tree line.  Suspecting we had found our target, the task then switched to directing a team on the ground to inspect it –  and confirm it was something more than a piece of discarded farm equipment.  Not as easily said than done, as we first had to find their van as it sped along the highway below, then – shuffling aviation sectionals and roadmaps in our laps – try to direct them through the series of turns along windy back roads that would allow them to reach that silvery little object we were so fixated on.  It was a moment of true elation when we heard that we had found our "downed plane," an old aircraft husk generously donated by a CAP member for training purposes and cunningly hid by the organizers of the exercise.  Had this been a real accident, we could have just saved lives.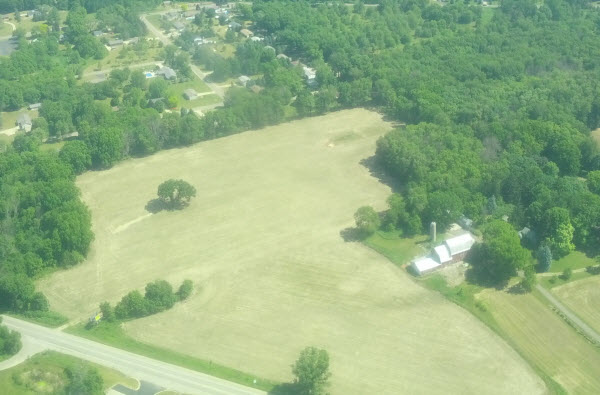 As a future physician – and recently minted private pilot – Civil Air Patrol was for me the perfect way to combine both of these interests to serve the community in a way unique to what I could do in either of those roles alone.  In addition to the good feelings that come from volunteering with an organization that you know is making a difference in people's lives, I felt for the first time that I had found a way to both serve the community and use my talents and education to really make a difference.  In the two years since I began volunteering with CAP, our squadron of roughly 30 has been credited with saving the lives of two hikers lost in a remote section of the U.P.'s Keweenaw Peninsula, participating in numerous ELT searches like the one I described, educating the community on topics of both safety and aerospace, and even sending an aircraft to Concord, New Hampshire to participate in the relief effort following Hurricane Sandy.
While our equipment is funded by the USAF, everyone in Civil Air Patrol is a volunteer.  One of the greatest experiences I've had as a member has been getting to know others in the community who share a strong desire to share their time and skills to benefit others.  Our squadron here in Grand Rapids is composed of a diverse group – from pilots and doctors to former officers in the military, software engineers, lawyers, emergency services workers and small business owners.  When I first joined CAP, I didn't know what to expect.  I had hoped to find a community of fellow pilots to learn from and share my interest in aviation, and while I certainly wasn't disappointed in that respect, what I ended up finding was so much more than that.  This was a group of individuals who, even above their shared interest in flying, shared a passion for their community.  The type that would drop everything – personal lives, work demands and commitments – to respond to a natural disaster on the other side of the country in only a few hours' notice on a Sunday morning.  Civil Air Patrol may not be an organization many have heard of – I hadn't until well into my flight training – but when the call comes at 2:00am that there may be someone lost, an aircraft overdue at its destination, or an ELT signal reported by a passing commercial aircraft, there will be CAP members ready to respond in any part of the country.
Interesting?  There's probably a squadron near you: http://www.gocivilairpatrol.com/